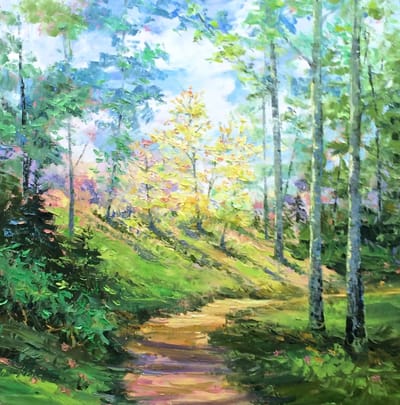 Although Judy has been painting for many years, she found her greatest inspiration in the landscapes of Western North Carolina. She and her husband have moved many times across the country and back again, but in 1999, found this gem and made it home. One cannot live in these mountains without being in awe of God's handiwork and wanting to express it in art form. Since then Judy has been able to focus on her work in a new and creative way.
Judy received a degree in art and has not only taught art workshops in watercolor, acrylic, and oils, but has also taken workshops in all mediums to hone her craft. As her means of expression changes and evolves, she feels renewed in the way she interprets and presents her subject. Currently, Judy is painting in oils with the palette knife, giving her the freedom to capture color and texture and light in a fresh way.
Paintings are personal in that they are a reflections of the artist and how they view their subject. But a person's reaction to a painting reveals much about themselves...how they view the world through their emotions and desires and the circumstances surrounding their life at the time. Judy endeavors to paint light as an expression of hope and joy in a world that is often dark. That hope is not of this world but of the Creator who made it.
Judy's work can be found at
Twigs and Leaves
in Waynesville and at the
Asheville Gallery of Art
in Asheville.